When thinking about remodeling or rebuilding a home, many focus on the tangible items of the project. Without a doubt, construction methods and materials are vital. But a home construction project can spawn other valuable transformations. Here are three additional ways that a remodel or rebuild can make a substantial difference.
PURPOSEFUL HOME PERFORMANCE
Good residential design must thoughtfully integrate principles that increase safety, access, ease of use and comfort for the residents.
"Your design should be flexible and adaptable for changing family needs," says Ryan Graham, vice president of operations for Graham Builders. "Families are organic and constantly changing. The homeowners we work with are encouraged to include spaces that can easily adjust to diverse situations. Imagine learning that your 87-year-old grandmother needs to move in with you — a year after you've completed an extensive remodel.
Sadly, the completed project didn't include a ground-floor bedroom or accessible bathroom. Rather than feeling remorseful later, our designers help homeowners to think proactively while designing their new space."
UNLOCK HIDDEN VALUE
Many homes are built on basic formulaic designs that often disregard special features each site offers.
"One remodel that we worked on was placed on a lot with an expansive display of the Waiahole Forest Reserve," says Graham. "Unfortunately, the side of the house with the views had no windows. The homeowners shared their frustration with our designers and were able to remedy the developer's faux pas. The results were magnificent and added to the value of the property. This is why it is important to hire a company that you can comfortably communicate and collaborate with."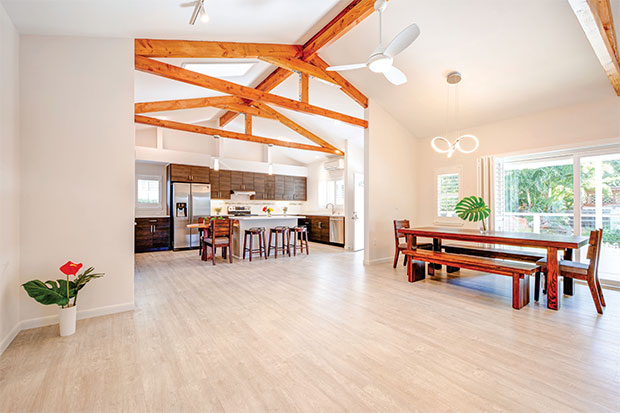 SPARK JOY
A home is where you belong; a place where you can let down barriers and be yourself.
"Designing and building a custom residence is the magic wand that turns 'I wish my home was…' statements into your dream kingdom," continues Graham. "Homeowners who experience this metamorphosis tell us that the confidence that comes from living in a home that reflects their taste and vision is life altering."
Graham Builders has helped hundreds of families to design functional and beautiful new homes and large renovations since 1990. The company has dedicated much of its efforts to helping multigenerational households collaborate so they can complete their project and live comfortably under one roof.
Among the many awards the company has collected, it is proudest of receiving the Better Business Bureau's Torch Award for Business Ethics.
Homeowners interested in learning more about the ins-and-outs of home construction can attend Graham Builders' upcoming "Building Your Home for Life" seminar held virtually on Saturday, Aug. 7, from 9 to 11 a.m. Seminars are free and reservations are required. To register, visit grahambuilders.com or call 808-593-2808.